Quote
Tetris DS Review
Tetris DS is a very fun game, with brand new modes to increase the length of time you can spend playing it. However, even though some of these modes are exceptionally fun, others lack good controls, and can feel like a waste of time.
Tetris is not a game meant to be played on your own. Even though it provides decent gameplay, and is fun when you have a couple of minutes to waste, the greatest thing about the game is the multiplayer. I have not played miuch multiplayer yet, but from what I have seen it works very nicely. DS download play will work with up to 10 players, and I think wi-fi will play up to 4.
The addition of power-ups is quite a nice feature, however I am unsure what they do, due to lack of play. In total you can play on three of the single player games for multiplayer. These are standard, push and mission.
Single player mode consists of 6 different variations of tetris, each with a different theme, and each with its different pros and cons.
Standard tetris is pretty standard, but you probably guessed that. It ranges from the slow level 1, to the almost unseeable level 20. You also get a mode where you have to clear a certain amount of lines from a point where the blocks are almost at the top of the screen. A final feature in standard tetris is that the top screen shows different games, and as you clear lines the character on the top screen will advance thorugh the levels. The games range from Super Mario Bros. to Metroid to Balloon Fight.
Push tetris is a donkey kong themed game, which is much better played on multiplayer than single player. In single player you play against a CPU and beat them by clearing lines to push the stack of blocks toward their screen. Whilst this game can be fun at times, especially if you maximize the difficulty of the CPU, push tetris is definately one of the weakest modes in the game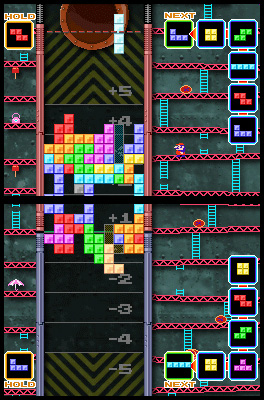 Mission mode is zelda themed, and is good fun on both types of play. On the top screen you recieve missions, which must be completed before you run out of hearts. Completing missions result in the awesome sound, ba ra ra raaaa!!!! (which is the greatest thing about this mode). This mode is very fun at times, but can get very fustrating when you just fail a mission.
Catch tetris is a metroid based game where you much catch falling blocks until you have a big 4x4 block, which you can blow up for points. This definately one of the harder modes to get the hang of, because you have to spin the entire catch pile to add new blocks, which will trick you at least once.
Touch mode my least favourite of the different modes. You have a giant tower of tetriminos which you must get rid off by tapping and moving the blocks. I mainly dislike this mode because of the bad controls, but it is quite good fun.
Finally, Puzzle mode. This was a very nice idea by Nintendo, which becomes boring quite quickly because of lack of variation. You are given a selection of pieces and you must place them in the right order so that you get an all clear.
Overall I think this game is a brilliant remake of a fantastic series, even with its few faults. It is a great game to get if you enjoy tetris, or want to give it a try.
Gameplay - 9/10
Controls - 7/10
Multiplayer - 10/10
Overall - 9.3/10